Go with the MOST TRUSTED.
Our premium photo booths for Bar Mitzvah are here to add excitement and joy to your celebration. With our state-of-the-art equipment, photography, bomb lighting, and friendly staff, you and your guests can strike a pose and say "cheese" with our fine selection of backdrops and customized designs. Whether it's silly faces, serious poses, or group shots, our Bar Mitzvah photo booth is the perfect way to capture the essence of your Mitzvah. Here are some testimonials for your reference below:
Add Some "Mazel Tov" To Your Bar Mitzvah With GC Photo Booth!
Choosing a Bar Mitzvah photo booth rental service adds an extra layer of fun and memories to your special day. With personalized props, backdrops, and instant sharing, your guests will have a blast capturing fun moments and group shots. Plus, you'll receive a custom engraved scrapbook filled with photos and messages as a reminder of your big day if you go with our Silver Package. So, why not say "Mazel Tov" to our Bar Mitzvah photo booth for a truly unforgettable experience?
1/1
1/1
Past Bar Mitzvah

Photo Booth Celebrations
We don't know what it is, but these young men and women feel simply compelled to capture their most beautiful moments in our photo booth. With over 35+ backdrops, 8 layouts, and fresh designs to choose, it's easy to go with GC Photo Booth. Throw in our newly minted Custom Engraved 100% Bamboo Scrapbook, and the decision is a snap!
1/1
These GIFs add another element to the photo experience. Your guests can email or text these to themselves in addition to the photos.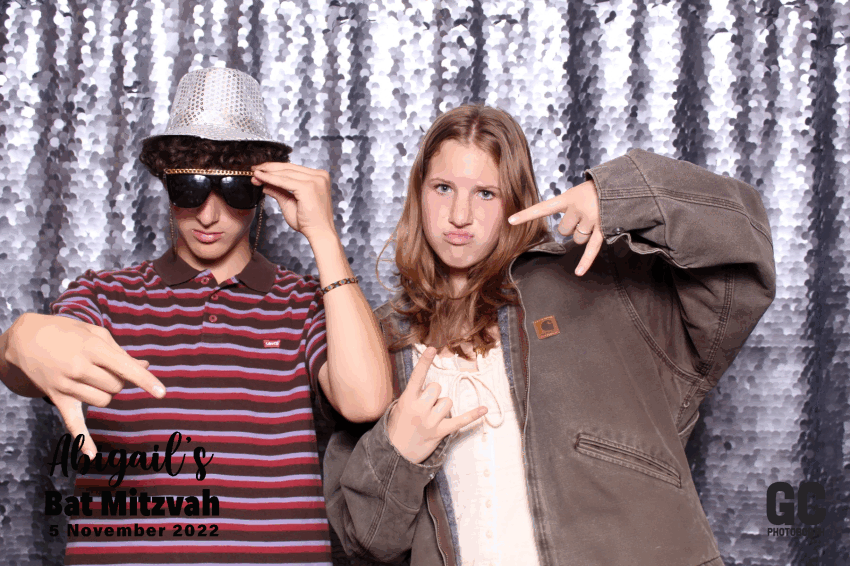 1/1
360 SLOW MOTION VIDEO BOOTH
Want something more than just a regular photo booth? Slow down time and let the fun begin with our 360 Slow Motion Video Booth. (Perfect for Bar Mitzvahs where we can get really messy.)
Our Bar Mitzvah photo booth comes fully equipped with a variety of fun and creative props that will add a playful and memorable touch to your special day! From funky glasses to Bar Mitzvah themed signs and quirky accessories, our props will bring out the fun and laughter in you and your guests, making for some truly amazing photos to cherish for years to come.
Bar Mitzvah Features You Will Love
BAR MITZVAH SLOW MOTION BOOTH
Our "Bar Mitzvah Slow Motion Booth" is the perfect addition to your special day. Not only will you have a blast with your friends and family, but you'll also get to relive those special moments in slow motion. With our high-tech booth, you'll be able to see all the laughter, tears, and joy in a new and exciting way.
NEED PHOTO, VIDEO, DJ + LIGHTING SERVICES
FOR YOUR BAR MITZVAH?
We specialize in Bar Mitzvah Photography as well! That's not a problem. Hire one of our event photographers for the Bar Mitzvah and we'll focus on photos of your guests. We'll even print out the photos or make them shareable via email/text. No more waiting months for the final product.
Ready to turn your gathering into an epic celebration? Look no further than our unparalleled DJs. Our experienced team will help you create the perfect atmosphere and make sure that every single guest takes off their shoes and gets on the dance floor. We guarantee a fun night full of unforgettable tunes, laughter, and dancing - all without skipping a beat!
LET'S GET STARTED WITH THE

GC BAR MITZVAH PHOTO BOOTH
Step 1. Look through our packages and pick the one that most closely matches your needs.
Step 2. Personalize your Bar Mitzvah booth by choosing the background, props, and filters that you want to utilize.
Step 3. A member of our staff will contact you to confirm the specifics of your reservation.
Step 4. Once your reservation is confirmed, we'll handle the setup, teardown, and everything in between, leaving you free to focus on your event.
Don't just take our word. See what our past clients have to say about our Bar Mitzvah photo booth rental services.
"The 360 slow motion photo booth at our son's Bar Mitzvah was a hit. Not only did it add a whole new level of fun with guests striking silly poses, but it also created unforgettable memories that will last a lifetime. The roaming photo booth was perfect for capturing all the candid moments of our special day. A big thanks to GC Photo Booth for making our event unforgettable."
Rac

hel




Mother of the Bar Mitzv

ah Boy
"The video confessional booth was such a unique and personal touch to our son's Bar Mitzvah. Not only did our guests have a blast recording well wishes and funny messages for us, but it also allowed us to relive all the laughter and love from our special day. We are truly thankful to GC Photo Booth for making this possible and creating another cherished keepsake from our event."
Dolores




Mother o

f the Bar Mitzvah Boy
"The combination of a roamer photo booth and video confessional booth was a total success at our son's Bar Mitzvah. Guests loved having their pictures taken in different locations, using the fun props. It added so much joy and personality to our celebration and we are so grateful to GC Photo Booth for making it all possible."
How much does it cost to rent a LED dance floor for my event?

It depends on the size and type of floor you want. For a 20'x20', our prices start at $4,500 and go up from there.

Can I use the LED dance floor for a corporate event?

Our LED dance floors are perfect for any event, including corporate events. You can also have them for your Birthday party, Weddings, quinceanera, Anniversary, Gala, and more.

Can the LED dance floor be used outdoors?

Yes, the LED dance floor can be used outdoors. However, we must be in a location that is protected against the elements as the floor cannot get wet. We prefer to be inside, but take outside events on a case by case scenario.

How does set up work?

LED dance floors require a ton of work and manpower. We transport it all in a large truck. For a 20x20' dance floor, the total weight is 1500 pounds with tiles, controllers, and power sources. We bring a team of 5 to set up and arrive about 4 hours before the start time. At the end of the night, we break down and pack everything up.